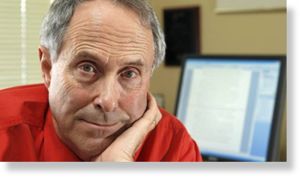 The Canadian Broadcasting Corporation and Prime Minister Stephen Harper's office quickly distanced themselves from former Harper aide Tom Flanagan on Wednesday after the political commentator said viewing child pornography did not harm others.
Flanagan was a campaign manager and chief of staff for Harper or the Conservative Party at various times before the Conservatives took power in 2006, and has long been a commentator for CBC.
At a seminar at Alberta's University of Lethbridge on Wednesday, he took issue with the Conservative "jihad" on child pornography.
The CBC dumped him as a political commentator and Harper spokesman Andrew MacDougall said his remarks were repugnant and did not reflect the Conservative government's view.
"...you know a lot of people on my side of the spectrum, a certain side of the spectrum, are bent on kind of a jihad against pornography and child pornography in particular, and I certainly have no sympathy for child molesters, but I do have some grave doubts about putting people in jail because of their taste in pictures," Flanagan, a political scientist at the University of Calgary, told the seminar on Wednesday night.
He said there was a real issue as "to what extent we put people in jail for doing something in which they do not harm another person."
Flanagan apologized, but not before the CBC fired him and Alberta's conservative Wildrose Party, for which he was campaign manager last year, said he would have no future role.
CBC News Editor-in-Chief Jennifer McGuire said: "While we support and encourage free speech across the country and a diverse range of voices, we believe Mr. Flanagan's comments to have crossed the line and impacted his credibility as a commentator for us."
MacDougall tweeted: "Tom Flanagan's comments on child pornography are repugnant, ignorant, and appalling."
In a later statement, MacDougall noted Conservative measures to toughen penalties for making or accessing child porn, and said Flanagan had not represented government views for some time.
"The tragic reality is that child pornography hurts children. Pedophiles abuse children, and then trade these pictures on the Internet. Once online, these images haunt victims long after the sexual abuse occurs," MacDougall said.
Flanagan in a statement condemned the sexual abuse of children and the use of children to produce pornography, but drew a distinction between that and the use of porn.
"Last night, in an academic setting, I raised a theoretical question about how far criminalization should extend toward the consumption of pornography," he said.
"My words were badly chosen, and in the resulting uproar I was not able to express my abhorrence of child pornography and the sexual abuse of children. I apologize unreservedly to all who were offended by my statement, and most especially to victims of sexual abuse and their families."
Source: Reuters