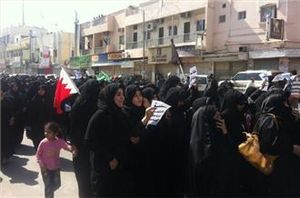 Offering apology, King Hamad vows to investigate incidents but opposition group suspends parliamentary participation.
At least one person has been killed and several others injured after riot police in Bahrain opened fire at protesters holding a funeral service for a man killed during protests in the kingdom a day earlier.
The victim, Fadhel Ali Almatrook, was hit with bird-shotgun in the capital, Manama, on Tuesday morning,
Maryam Alkhawaja
, head of foreign relations at the Bahrain Centre for Human Rights, told Al Jazeera.
"This morning the protesters were walking from the hospital to the cemetery and they got attacked by the riot police," Alkhawaja said.
"Thousands of people are marching in the streets, demanding the removal of the regime - police fired tear gas and bird shot, using excessive force - that is why people got hurt."
At least 25 people were reported to have been treated for injuries in hospital.
An Al Jazeera correspondent in Bahrain, who cannot be named for his own safety, said that police were taking a very heavy-handed approach towards the protesters.