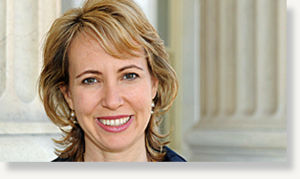 U.S. Congresswoman Gabrielle Giffords' efforts to relearn how to speak have included mouthing song lyrics, such as "Twinkle, Twinkle, Little Star" and "Happy Birthday to You," as friends and family sang along.
Giffords also briefly spoke with her brother-in-law Scott Kelly by telephone Sunday afternoon as he orbited aboard the International Space Station,
The New York Times
reported on its website.
"She said, hi, I'm good," her chief of staff, Pia Carusone, told the paper. He is the brother of Giffords' husband, astronaut Mark Kelly.
She has also been receiving bedside briefings from aides on the recent uprising in Egypt and on last week's decision by Republican Sen. Jon Kyl of Arizona not to seek re-election,
"We tell her everything that's going on," Carusone said.
"Don't get the idea she's speaking in paragraphs, but she definitely understands what we're saying and she's verbalizing."