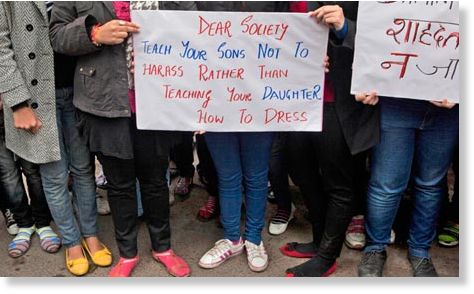 A recent spate of attacks on women in Delhi has renewed fears over the safety of women in the Indian capital and raised doubts over the efficacy of reforms introduced since the gang rape and murder of a 23-year-old physiotherapy student in the city last December.
Two women are reported to have been raped by multiple attackers in moving cars in separate incidents in recent days. A third woman was robbed and then raped by two men after taking a motorised rickshaw in the satellite city of Ghaziabad at the weekend.
Four victims under 18 were also assaulted in incidents reported to the police over the past four days, according to local media. Only a fraction of such attacks are ever reported in India.
The gang rape and murder in December shocked the nation. Tens of thousands of protesters took to the streets in India calling for widespread legal and policing reforms as well as a wholesale shift in cultural attitudes towards women.
A series of measures - such as fast-track courts for sex crimes, harsher punishments for convicted offenders and gender training for policemen - have been introduced since the attack by authorities. The government was heavily criticised for its early lack of sympathy for protesters.
The finance minister last week announced a new fund of £120m to improve the safety and empowerment of India's women.
But reporting a 124% rise in reported rape cases in Delhi since the attack and a nearly sixfold rise in cases of harassment, the
Hindustan Times
newspaper
said
"the harsh reality is Delhi hasn't changed for the better, it has become worse".
Police officials say the rise is the result of officers taking complaints more seriously and a broader awareness in the city of what constitutes harassment. Five men and a juvenile are on trial for the attack on the student in December, which took place in a private bus moving on crowded roads on a Sunday evening.
The adults accused face the death sentence if convicted. Experts have suggested a variety of causes for the new wave of violence against women ranging from stereotypes of aggressive masculinity projected by Bollywood films to a
clash of cultures
as millions of men raised in rural areas arrive in cities where women enjoy greater freedoms. Conservatives blamed "westernisation", opposing a broadly rural, supposedly authentic India with an increasingly urban, globalised one.
Recent research in Delhi has revealed more mundane causes for high levels of violence and harassment. The lack of safe public transport in Indian cities is one major factor with "eve teasing", as sexual harassment is euphemistically known, endemic on overcrowded buses. A
lack of toilet facilities
in slum areas which forces tens of millions of women to use open ground at night is another.
A commission set up to examine possible measures to combat the wave of violence against women received tens of thousands of suggestions from the general public. In the southern state of Kerala officials are
considering
the distribution of "electronic bangles" which could send a signal to the nearest police station in the event of an assault.
There are some signs of change. Jason Temasfeld, an activist campaigning against sexual harassment in India's commercial capital of Mumbai, said there had been a "drastic change" in awareness in recent months. "Women know much more what to do and about their rights. And other people are much more vocal in reacting to harassment when they witness it. Even the police are more responsive," he told the Guardian.
The victim of the December attack was dubbed "Nirbhaya" or "the fearless one" by media in India for fighting back during the assault and for recording a statement despite massive internal injuries before she died. She will be posthumously awarded the US state department's international women of courage award on Friday by Michelle Obama, it was announced earlier this week.