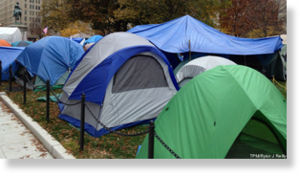 The Secret Service
announced
the suspect was taken into custody in Pennsylvania.
The Secret Service searched Occupy D.C. on Monday for a man suspected of firing bullets at the White House on Friday, one of which was stopped by the building's ballistic glass.
Protestor Ralph Wittenberg told TPM on Tuesday evening that
authorities came through "searching for a so-called terrorist who shot at the White House, with no warrant, they went into everybody's tents."
A person handling media requests for Occupy DC confirmed the searches and said they were led by the Secret Service. The agency did not immediately respond to a request for comment.