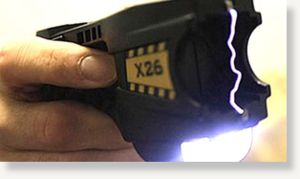 The RCMP has confirmed that one of its officers used a Taser to subdue an 11-year-old boy after a stabbing in Prince George, B.C.
Police used the electrical stun weapon after responding to a 911 call about an incident at a home in the city at about 5:30 p.m. PT Thursday.
After officers arrived at the residence, "police confirmed that a 37-year-old male had been allegedly stabbed by an 11-year-old male," RCMP Supt. Brenda Butterworth-Carr, commander of the Prince George detachment, said in a statement Friday.
Butterworth-Carr said officers located the young suspect at a nearby property.
"Efforts were made to get the individual out of the house, and when he emerged from the home, a Conducted Energy Weapon was deployed by a member," Butterworth-Carr said.
The police statement provided no details about what led police to use the stun gun.