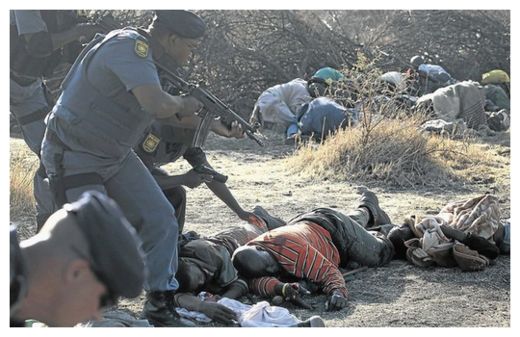 A mystery sangoma is believed to be behind the foolish courage displayed by striking miners during Thursday's deadly standoff.
Undeterred by water cannons and tear gas, the miners crept through the bushes towards the police and charged straight into a heavy line of fire.
The surviving miners are not talking, but union officials, residents of Marikana and the police confirmed the presence of the unidentified sangoma, who carried out rituals on the hill and dished out muti where workers had gathered throughout the week.
It is said the man, who is from the Eastern Cape, had provided muti to the protesters and made them believe it would make them invincible.
Senzeni Zokwana, president of the of National Union of Mineworkers, said the strikers had to fork out R500 before being sprinkled with ntelezi.
He said the workers were cut with razor blades and then had the muti smeared on their bleeding wounds.
Several of the strikers the
Sunday Times
spoke to yesterday were reluctant to talk about the sangoma, and some even denied his existence.
"I heard about that, but I don't want to talk about it," said one before walking away.
Another, who had camped on the hilltop for three days, did not deny the presence of the medicine man.
"I'd rather not respond to that one, please," he said.