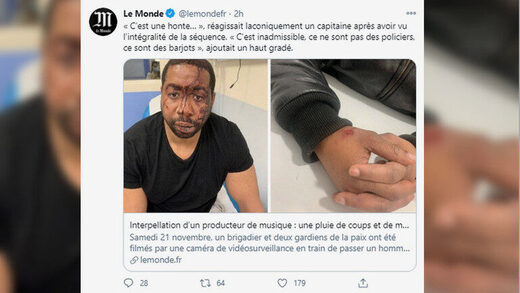 A shocking video of French police beating up a man who wasn't wearing a mask showed the authorities' iron-fist approach to enforcing regulations and suppressing protests. Will this be the new norm when the pandemic has passed?
A British shopper recently spotted by police failing to wear a face mask decided to heap
abuse
on the hapless copper patiently explaining the rules to her before she simply flung her basket to the ground and strolled off without a care in the world. All very British, and no one was hurt - but it illustrated the frustration normal people are feeling over this never-ending pandemic.
Meanwhile, in Paris, a young, black music producer leaving his studio without wearing a face mask was spied by
three policemen who
set upon him
and forced him back into his studio, where

they kicked, punched and beat him with a truncheon for five minutes

before he managed, with the help of friends, to bundle them out the door
.