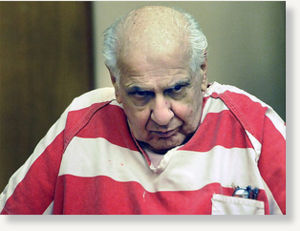 The unsolved strangulations of three young upstate New York girls in the early 1970s could have ties to a suspected serial killer arraigned Wednesday in northern California.
New York State Police are eyeing Joseph Naso, 77, as a person of interest in Rochester's cold-case "Double Initial" murders because the four women he's accused of killing in California fit a similar pattern of alliterative initials - RR, CC, PP and TT.
In one striking similarity, a 22-year-old woman he allegedly dumped near a Port Costa, Calif., highway in 1978 has the same exact name as the 10-year-old girl abducted, sexually assaulted and strangled in the first murder of the Rochester-area spree - Carmen Colon.
Naso also once lived in the Rochester area and traveled between there and the West in the early 1970s, authorities said.