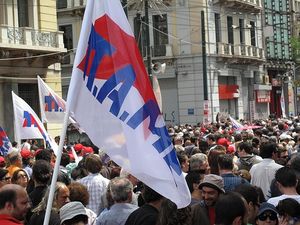 While Eurozone finance ministers scramble to find a quick solution to the European debt crisis, the economic collapse has already taken a deadly toll in Greece, the vortex of the problem.
Suicide rates are skyrocketing in a country already beset by massive job cuts, austerity spending, slashed pensions, and soaring taxes.
The economic numbers are stark.
Greece's gross domestic product declined more than 7 percent year-over-year in the second quarter. Spending cuts and tax hikes amount to about one-fifth of the GDP.
Even after two huge multi-billion-euro bailouts, the average Greek household has seen its income plunge by half, according to the
Guardian
newspaper of the UK.