Mother clutched infant to her chest when rescuers reached them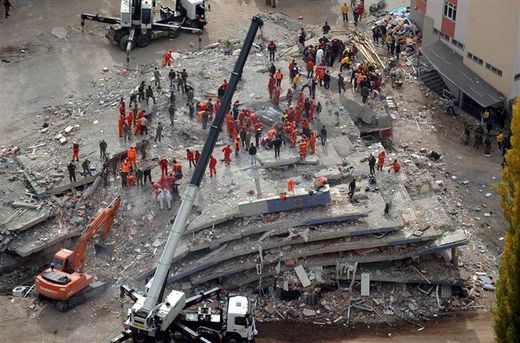 Ercis, Turkey - Rescuers pulled a two-week-old baby girl alive from the wreckage of a collapsed apartment block Tuesday as they battled to find survivors from a earthquake in eastern Turkey that killed at least 432 people and left thousands homeless.
The baby's mother and a grandmother were also brought out alive on stretchers to jubilant cries from onlookers who followed the dramatic rescue under cold, pouring rain.
"It's a miracle!," said Senol Yigit, the uncle of the baby, Azra, whose name means "purity" or "untouched" in Arabic. "I'm so happy. What can I say. We have been waiting for two days. We had lost hope when we first saw the building," he said sobbing.
Television footage showed rescuers in orange jumpsuits clapping as the baby was removed from the wreckage. A rescuer cradled the naked infant, who was wrapped in a blanket and handed over to a medic.
The baby's mother, Semiha, had been pinned next to a sofa inside the flattened building before her rescue. She had been clutching the infant to her chest when rescuers reached them.