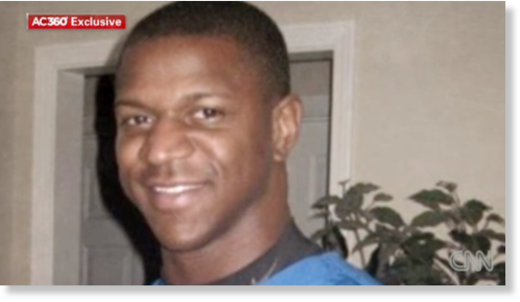 Prosecutors have
turned over an investigation
of a Texas man's disappearance and death to the state attorney general's office after the Justice Department launched its own investigation.
Alfred Wright
disappeared Nov. 7
while going to visit a physical therapy client when his truck broke down.
He called his wife to pick him up, but she called her in-laws instead because she was watching their two son.
Lauren Wright said her husband was breathing heavily as if in distress when she called back, and his parents found his truck - but not their son - when they arrived at the Hemphill liquor store where his vehicle broke down.
The clerk told Wright's father she had seen him outside using his cell phone, but he had suddenly tucked the phone into his sock and took off running "as if his truck was going to blow up."
The 28-year-old Wright's watch and identification were found the following day at a nearby ranch and police organized a massive manhunt, but the search was called off after three days.
The missing man's family hired a private investigator and organized their own search party, and Wright's remains were discovered 18 days later just 25 yards away from where he disappeared, in an area police said they had already searched.
The official autopsy found that Wright had died from an accidental drug overdose after toxicology tests showed cocaine and methamphetamine in his body and no evidence of severe trauma.
But Wright's family was baffled, because they said he never had been known to use drugs - and his partially unclothed body had a slit throat and missing an ear, tongue and two teeth.
His body was found
clothed only in boxer shorts
, tennis shoes and a single sock, which had his cell phone tucked inside.
The medical examiner attributed the injuries to animal and insect activity.
The family's attorney said the Sabine County sheriff had suggested a drug overdose before Wright's body was discovered, and relatives believe the medical examiner's report was based on conclusions made by law enforcement without any evidence.
"The presence of drugs in Alfred's system fails to explain the very apparent signs of severe trauma found on his body," the family said in a Dec. 27 press release.
The medical examiner's report showed Wright's body had shallow puncture wounds to the abdomen, left thigh, left lower leg, and palm of the left hand but did not indicate any evidence of severe trauma.
A forensic pathologist hired to perform a second autopsy found evidence of severe head and neck trauma but still has not been allowed to access photographs from the first autopsy, the family's attorney said.
The family also said Wright's truck still has not been searched by authorities, and investigators had not yet interviewed the people who found his body or taken formal statements from the last people to speak to him.
"Due to the allegations against the sheriff, and to avoid any appearance of impropriety, I have been requested and have agreed to turn this case over to the Texas Attorney General's Office," said Sabine County District Attorney Kevin Dutton. "I have requested that that office handle all further investigations and/or prosecutions concerning the Alfred Wright case."
He authorized the Texas Rangers to release all material and information compiled in their investigation, which the district attorney said had been mostly completed.
The Wright family met Jan. 23 with Rep. Sheila Jackson Lee (D-TX) to discuss their concerns about the investigation, and the lawmaker invited the Justice Department to look into the case.
Lee announced Monday that federal authorities had agreed to investigate.
Watch this video report posted online by CNN
: