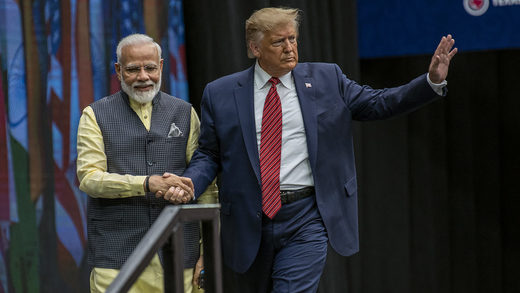 As U.S. President Donald Trump prepares for a state visit to India, the two nations' economic relationship will take center stage after several months of back-and-forth
about escalating tariffs
. And while Trump himself receives positive marks from the Indian populace, some of his specific policies and trade attitudes in general do not garner the same warm reception.
A majority of Indians have
confidence in Donald Trump to do the right thing
when it comes to world affairs. Trump's image in India has gained favor since his candidacy in 2016, jumping from 14% confidence to 56% over three years. Much of this movement is accompanied by more people now offering an opinion about the U.S. president. The share volunteering a response of "don't know" or declining to answer has fallen precipitously over the same period, from 67% in 2016 to just 30% in 2019. Meanwhile, the small share of those saying they lack confidence in Trump when it comes to foreign policy has remained stable. These latest numbers resemble those of Trump's predecessor:
Before Barack Obama left office, 58% of Indians had confidence in him in world affairs, while 9% had no confidence and 33% did not offer an opinion.