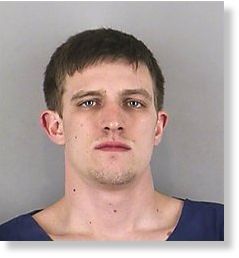 A Kansas City-area man was arrested Saturday in the killings of two prostitutes whose bodies were found posed on the sides of rural Missouri roads nearly a year apart.
At a news conference Saturday night, authorities said Derek Richardson, 27, has been charged with two counts of first-degree murder and two counts of abandonment of a corpse. His bail is set at $2 million. It wasn't immediately known whether he has an attorney.
"We absolutely stopped a person who was going to kill again," said Kansas City police Sgt. Doug Niemeier, adding that authorities will search across the United States to ensure there weren't other victims.
"We do know that he had travels elsewhere," Niemeier said, "so we will be contacting those states just to make sure."
Police announced earlier this month that the deaths of Tamara Sparks and Nicoleone Reed were linked and asked the public for help. Police said they believed whoever was responsible for the deaths also was the person who lost a size 11, canvas, Crocs-brand shoe at the site where Sparks' body was found.