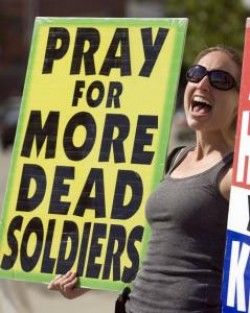 On Saturday USMC Staff Sgt. Jason Rogers, who was killed in action in Afghanistan April 7, was buried in Brandon, Mississippi.
That, by itself, is a sadly unremarkable - though certainly noteworthy and solemn - occasion for us to mark.
And in fact when Sgt. Rogers' body returned to Brandon it was greeted by hundreds, or perhaps even thousands, of well-wishers who gathered at the roadside to honor the fallen American hero. The dashboard camera from Mississippi state trooper Elmo Townsend's cruiser gives an indication of the scene last Thursday.
What is most notable about Sgt. Rogers' funeral in Brandon, however, is what didn't happen.
You see, the troglodytes from Westboro Baptist Church had threatened to spew their poison at Sgt. Rogers' funeral.
But the Westboro mob wasn't on the scene, and Sgt. Rogers was laid to rest without incident - thank God.
Why weren't there protestors?
Planning ahead by the locals, as it turns out.