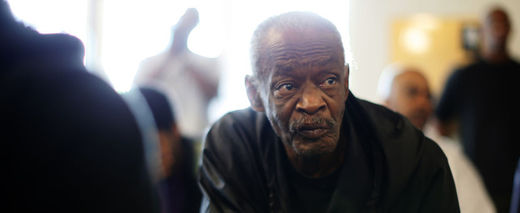 As the number of homeless people in Los Angeles County
continues to rise
, the City Council is weighing a ban on feeding homeless people in public areas.
City Council members Tom LaBonge and Mitch O'Farrell, both Democrats, introduced the resolution after complaints from Los Angeles residents. Arguing that meal lines should be moved indoors, the legislators said the proposal would benefit both the homeless and residential neighborhoods.
Actor Alexander Polinsky is one Los Angeles resident who complained about the number of homeless people crowding his neighborhood.
"If you give out free food on the street with no other services to deal with the collateral damage, you get hundreds of people beginning to squat," Polinsky told
The New York Times
. "They are living in my bushes and they are living in my next door neighbor's crawl spaces. We have a neighborhood which now seems like a mental ward."
"This has overwhelmed what is a residential neighborhood," Council member LaBonge
said.
"When dinner is served, everybody comes and it's kind of a free-for-all."
But advocates for the homeless say public officials are attempting to legislate the poor into invisibility instead of helping those in need.
"It's a common but misguided tactic to drive homeless people out of downtown areas," Jerry Jones, the executive director of the National Coalition of the Homeless, said to
The New York Times
.
"This is an attempt to make difficult problems disappear," said Jones. "It's both callous and ineffective."
While homelessness in the U.S. has
dropped for the fourth straight year
, falling 4% in the past year, some cities, including Los Angeles, have seen a spike in homelessness. The homeless population in Los Angeles is the second highest in the country, following New York City. Los Angeles County's homeless population rose 15% from 2011 to 2013, to nearly 53,800 individuals, according to a report from the
Department of Housing and Urban Development
released last week.
Los Angeles would join "dozens of cities in recent years" including Philadelphia, Raleigh, N.C., and Orlando, Fla. that have either enacted or at least debated legislation aimed at regulating the public feeding of the homeless. Over 50 cities have previously adopted some kind of anti-camping or anti-food-sharing laws
, according to the
National Law Center on Homelessness & Poverty.
In March of 2011, Philadelphia Mayor Michael Nutter
announced the ban
on serving food in public parks, he said moving such services indoors was part of an effort to raise standards for the homeless. The ban was temporarily blocked by a federal court in July 2012 after homeless advocacy groups sued the city.
"It hardly needs to be said that plaintiffs' food-sharing programs benefit the public interest," Federal Judge William Yohn Jr.
wrote in his opinion
. "Despite [the city's] considerable efforts, many Philadelphians remain homeless and hungry."
In Orlando, Fla. a
federal appeals court
unanimously ruled in 2011 that
the city can restrict the feeding of the homeless in order to protect the parks
. A spokesperson for the city said that residents and business owners originally complained about trash left after the food distribution, public urination and concerns about crime.
The
court decision
states, "The City of Orlando enacted the ordinance to spread the burden that feedings of large groups have on parks and their surrounding neighborhoods."
City officials were then allowed to enforce an ordinance restricting weekly feeding of the homeless in downtown parks.