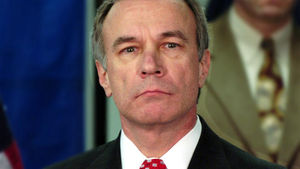 Why didn't Centre County District Attorney Ray Gricar prosecute Jerry Sandusky the first time he was accused in 1998? We may never know, as Gricar disappeared in 2005.
It is strange that Centre County District Attorney Ray Gricar never prosecuted
Jerry Sandusky on child-rape charges 13 years ago
, some speculate, because Gricar was known for being fiercely independent and hard on crime.
But it is even stranger that we cannot ask Gricar why Sandusky was not put behind bars, because the tough-as-nails district attorney disappeared in 2005. And though he was declared dead July of this year, his body has never been found.
"People ask why Ray did not prosecute, and I have no problem saying, because he clearly felt he didn't have a case for a 'successful' prosecution," Tony Gricar, Ray Gricar's nephew ,
told The Patriot-News
.
"... One thing I can say is that Ray was beholden to no one, was not a politician."