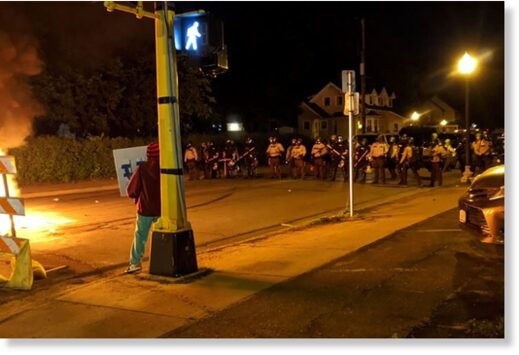 Thursday night in Portland, Antifa and BLM rioters set fire to a 120-year-old statue of an elk, causing it such extensive damage that it had to be removed. They've accordingly come in for some mockery on social media, as people wonder how the elk expressed his "racism" and "white supremacism." Many take the destruction of the elk statue as a manifestation of the same stupidity that led rioters who proclaimed they were out to destroy monuments to slave-holders to target statues of General Grant and Abraham Lincoln. But the rioters aren't stupid, even as they destroyed the elk.
Once one understands what their real goal is, all their actions make sense.
In the first place, the rioters aren't really out to bring about a societal repudiation of "racism" or "white supremacy" at all.
That's just a pretext.
If they were, they wouldn't have gone after Grant and Lincoln, and they didn't go after them because they were too miseducated and propagandized to know better.
What the rioters want to do is the very definition of terrorism: to strike fear into the hearts of a population so that its entire existence is consumed by it, and it becomes paralyzed, unable to act even in its own defense.
Antifa and Black Lives Matter are terrorists not just because they are open Marxists who want to destroy the United States as a free republic and establish an authoritarian socialist state in its place; they're also terrorists because terror is one of their principal tactics. They want to make you afraid.
They want to make you think the ground is unsteady beneath your feet, that the old order is crumbling, and that they represent the new, energized vanguard, or what another terrorist, Osama bin Laden, called "the strong horse."
They also want to make you think that at any moment, you yourself could be targeted and destroyed,
even if you're as innocent of wrongthink and unacceptable political opinions as the Portland elk
.