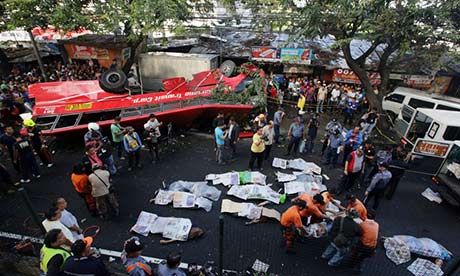 At least 21 killed in suburban Manila as bus veers off highway in wet weather and crushes van
At least 21 people were killed and about 20 others injured when a passenger bus plunged from an elevated highway and fell onto a van in suburban Manila, police said.
Superintendent Elizabeth Velasquez said the bus veered off the highway and crashed onto a van passing below in suburban Paranaque city at dawn on Monday. Both drivers were killed.
TV footage showed a number of bodies strewn around the bus wreckage with police officers milling around.
The van was an unrecognizable pile of smashed white metal.