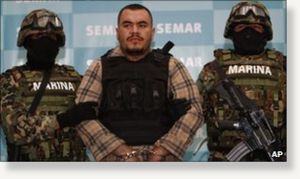 The Mexican state of Tamaulipas has dismissed its head of security following the discovery of 145 bodies in mass graves earlier this month.
Former army Gen Ubaldo Ayala Tinoco has been replaced by another former soldier, Capt Rafael Lomeli Martinez.
The state governor said the new chief would improve coordination with the army and federal police in the fight against drugs gangs.
The killings have been blamed on the Zetas drug cartel.
More than 20 suspected cartel members have been arrested in connection with the killings, including the alleged mastermind of the massacre.
But 16 state policemen have also been arrested on suspicion of protecting the criminals.