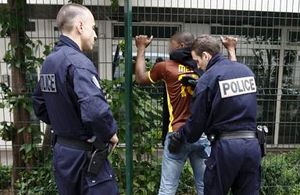 French police single out young black and Arab men for random street checks as part of a new policy to combat crime, a rights group said on Thursday, questioning the success of one of President Nicolas Sarkozy's main initiatives before elections in April.
Sarkozy, who made his reputation as a hardline interior minister, declared war on urban violence in 2010 after riots in the east city of Grenoble.
The government said last week crime had fallen in 2011 for the ninth straight year. But Interior Minister Claude Gueant has raised eyebrows with his right-wing stance on the issue since Sarkozy promoted him to his Cabinet a year ago.
Human Rights Watch (HRW) said in a report that French law allowed the police to carry out the checks without any evidence of a crime being committed or being officially registered.
It is shocking that young blacks and Arabs can be, and are being, forced to stand against a wall, pushed around by the police without any proof of breaking the law," said Judith Sunderland, senior researcher for HRW for West Europe.
"But in France, if you are young and live in certain areas, it is part of life."
'Deplorable'
Marine Le Pen, leader of France's far-right National Front party who is also running for the presidency in three months time, has called Gueant's security policy mere posturing for electoral gain with little real effect on the ground.
HRW said boys as young as 13 were arbitrarily stopped by police, questioned, frisked and even roughed up. It said the lack of official records made it difficult to evaluate the efficiency or legality of the checks.
"Frankly, relations between the police and minorities in France is deplorable and everybody knows it," Sunderland said.
"Adopting concrete measures that would stop abusive identity checks, which is one of the main sources of tension, would be a real step forward and would bring about a real change to the daily lives of people."