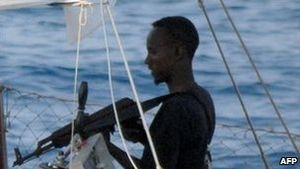 Four Americans sailing on a yacht off the coast of Oman have been taken hostage by Somali pirates, an international maritime watchdog says.
The S/V
Quest
, owned by a retired couple, was hijacked 240 nautical miles (275 miles) off Oman on Friday afternoon, Ecoterra told BBC News.
It is believed the yacht was en route from India to Oman.
While pirates usually attack cargo ships, they have hijacked a number of yachts in recent years.
Ecoterra said the capture of the S/V
Quest
had been reported by both its sources and by Nato's anti-piracy operation,
Ocean Shield
. Nato could not be reached immediately for comment.