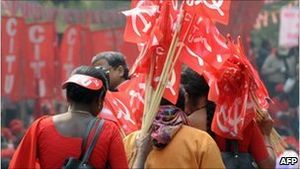 Thousands of people have gathered in the Indian capital, Delhi, to take part in a rally to protest against rising food prices and unemployment.
A steady stream of protesters, carrying red flags, has been marching through the streets of central Delhi since early morning.
The rally has led to massive traffic jams in the city.
Trade unions who have called the rally say nearly 40,000 people will attend a meeting at the Ramlila grounds.
Thousands will then march to parliament, they say.
Security is tight across the city with thousands of policemen deployed at the rally ground and along the route of the march.