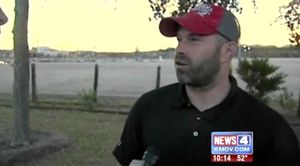 A military veteran who lost both of his legs in Afghanistan says he was reduced to tears when a Texas Six Flags refused to allow him to accompany his 14-year-old daughter on a ride.
Sgt. Stephen Jackel
told KMOV-TV
that he was told by the amusement park he was not permitted to go on the ride because their policy states individuals must have one functional leg and arm.
Six Flags insists the policy is in place for safety reasons.
However, Jackel - who uses two prosthetic legs - insists
park personnel never informed him of the policy when he purchased his tickets.