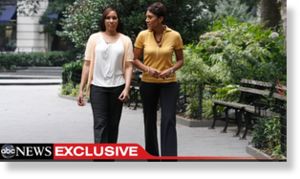 The hotel maid who has accused former International Monetary Fund chief Dominique Strauss-Kahn of trying to sexually assault her in a New York City hotel room has broken her public silence in an exclusive broadcast interview with ABC News.
"I want justice. I want him to go to jail," Nafissatou Diallo told ABC's Robin Roberts in an interview to air Monday on
Good Morning America
and
World News with Diane Sawyer
and Tuesday on
Nightline
. "I want him to know that there is some places you cannot use your money, you cannot use your power when you do something like this."
Strauss-Kahn may not go to jail. Manhattan District Attorney Cy Vance is considering whether to drop the charges amid "concerns" he has said he has about Diallo's credibility.