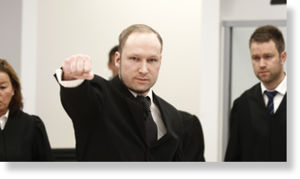 As Anders Behring Breivik's trial progresses in Oslo district court, the big question remains whether he can be considered responsible for his actions.
The penal codes of most Western countries allow for punishment to be adjusted according to the severity of the criminal act. In addition, the perpetrator's level of responsibility for their actions is usually considered. Other legal systems, such as the Sharia-based one of Iran, also make allowances for diminished responsibility.
In Breivik's case, there is no doubting the extreme severity of his criminal act. His killing of 77 people is the worst case of murder in Norway since World War II. The unanswered question is whether he can be held to account for a massacre to which he confesses.
Two psychiatric reports have come to conflicting conclusions as to whether Breivik was psychotic at the time of his action. The first set of experts believed he suffered from paranoid schizophrenia, yet the second report concluded that he showed no signs of psychosis.
Although Norwegian courts are able to disregard forensic psychiatry reports, in practice it is extremely rare for them to do so. And a quirk in Norway's penal code means that the question of psychosis is particularly important.