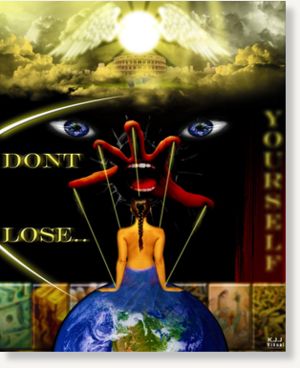 Recently, the formerly highly respected web essayist, John Kaminski, wrote a new piece entitled "Parasite alert: Outing those who pretend to be friends of the truth" in which he took a strange jab at yours truly as follows:
[...] It's also interesting that Daryl writes about Zionists but agrees with French law that one may not speak about the Holocaust, a colossal act of cowardice that should send people running from his site and should de-legitimize anything he says in the minds of anybody who can think. [...] Another person who falls into this category is channeler Laura Knight-Jadczyk, who has inveigled many with her prescient psychological pronouncements that it is a percentage of psychopaths that hold the world in thrall through savagery. K-J's encyclopedic and endlessly perfect papers about aspects of human behavior scare the shit out of me, because her new science of ponerology could serve perfectly as a new template for totalitarianism, to be imposed by the very people who get to fund spooky think tanks like these. Thankfully, she has not caught on in any of the groups I observe working on the world's problems. [See our Forum Thread for the entire essay]
John is right: understanding what is really going on here on the BBM has not caught on in any of the groups he observes "working on the world's problems." We can also note that none of these groups seem to be making any progress because the very science that could help them to understand the first level of what they need to solve before anything can ever get done "scares the shite" out of them. Now, why would that be?
It's an interesting question, and I want to share a story about someone else who was working on solving the world's problems at another time and place in history, similar to our present day, in order to make a particular point. I want to talk about Frtiz Gerlich's
Bloody Spectacles
. Now, before I get to Fritz, let me first say a few words about David Irving. In my previous blogpost, I discussed the truly scary idea that is taking hold in many anti-Zionist circles that, because the Zionists seem to be at the root of the world's problems today, that Hitler must have been a good guy because he saw the Jews as being at the root of all the world's ills then. David Irving seems to be one of the ringleaders of this idea. I recently read an interview with Irving where he says that the "defining moment" for him was when he had penetrated the "inner circle" of the people who had been close to Hitler and he realized that they were all "well-educated, nice and decent". So, of course, if all these well-educated, nice people with deep thoughts and insights thought Hitler was a good guy, then of course, he
must
be! Irving was caught in the psychopath's trap just like all the people in Hitler's inner circle were caught... . He's not the first, either. Nor will he be the last. In fact, it's almost epidemic nowadays. I won't belabor the point; those of you familiar with the problem know exactly what I'm talking about. What is problematical is what this "conviction" has driven Irving to do: cherry pick and spin data. More than that, it has driven him to emulate his hero in certain respects. About the people who support him, Irving has been recorded to say:
"I find it odious to be in the same company as these people. There is no question that there are certain organizations that propagate these theories which are cracked anti-Semites."