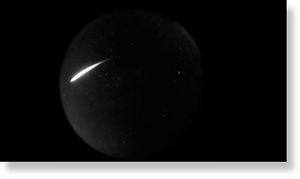 A fist-sized meteorite plummeted to Earth somewhere in southern Savo. At least three cameras captured the bright streak of the space-rock making its fiery descent over the weekend.
"The meteorite has probably fallen along the border between Kangasniemi and Hankasalmi," says Arto Oksanen, from the astronomy organisation Jyväskylän Sirius.
The landing site got quite a bit of snow over the weekend, which makes finding and retrieving the meteorite quite difficult.