A lime-green meteor as bright as the full Moon streaked across Canadian skies on July 24th and may have delivered free samples from the asteroid belt.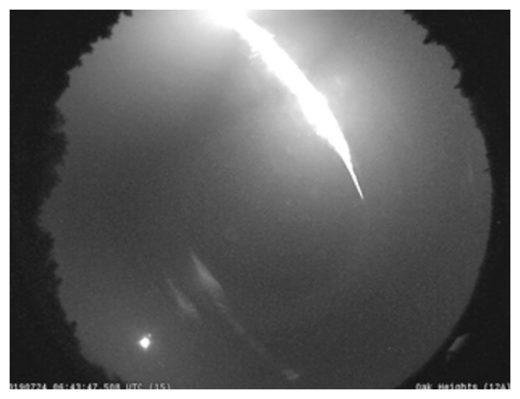 At 2:44 a.m. EDT on July 24th, a wolf near Eel Lake in southern Ontario jerked its head skyward in surprise as a 12-inch (30-cm) diameter meteoroid suddenly illuminated the forest like a transitory full moon.
The object, a stray from the asteroid belt, finally found a home after countless years of aimless orbiting — the heavily forested lake country some 200 kilometers north of Toronto not far from the town of Bancroft.
Assorted wolves and night predators weren't the only ones with their eyes on the surprise. Plenty of of people saw it, too. Nearly
50 eyewitness reports
were submitted to the American Meteor Society's (AMS) fireball reporting page by observers from Michigan to Québec. Gary N. of Hamilton, Ont. described the color as bright "lime green." Jenny K. of Getzville, NY called it "the size of my fist."