Last year, as Americans across the country grappled with the widespread effects of the Great Recession, tax dodging by corporations and the wealthy cost the average U.S. taxpayer $434, even as corporate profits soared 81 percent. In fact, according to a new report from the
Institute for Policy Studies
, "
corporate tax dodging has gone so out of control that 25 major U.S. corporations last year paid their chief executives more than they paid Uncle Sam in federal income taxes
."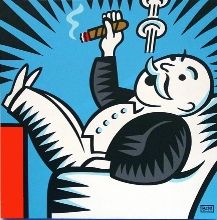 - Of last year's 100 highest-paid corporate chief executives in the United States, 25 took home more in CEO pay than their company paid in 2010 federal income taxes.

- These 25 CEOs averaged $16.7 million, well above last year's $10.8 million average for S&P 500 CEOs. Most of the companies they ran actually came out ahead at tax time, collecting tax refunds from the IRS that averaged $304 million.

- CEOs in 22 of these 25 firms enjoyed pay increases in 2010. In 13 of these companies, CEO paychecks ratcheted up while the corporate income tax bill either declined or the size of the corporate tax refund expanded.