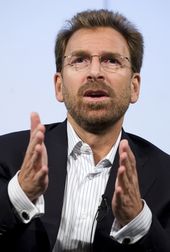 Jean-Marie Messier and Edgar Bronfman Jr. were found guilty by a Paris court of criminal charges related to Vivendi SA's near-bankruptcy after a $77 billion acquisition spree while they led the company.
Messier was fined 150,000 euros ($200,000) and Bronfman 5 million euros by a three-judge panel today. Neither was sentenced to jail time. Messier, 54, was found guilty of misleading investors during his tenure as Vivendi's chief executive officer. Bronfman, also 54, was found to have traded on inside information while vice chairman.
"On the points that were important to the rise in the Vivendi Universal shares," Messier made "statements of a nature to mislead investors," the judges wrote in their decision. Messier also "had awarded to himself, while the company was in grave difficulty, very large amounts, of a type to exacerbate its financial problems."
The conviction diverges from a civil jury verdict in a New York shareholder class-action lawsuit last January. That ruling cleared Messier and former chief financial officer Guillaume Hannezo of misleading investors and held the company solely responsible for the conduct.