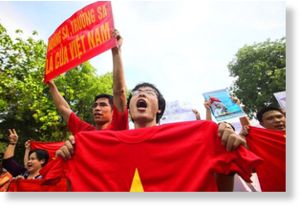 On the eve of talks with the U.S., China warned against American involvement in the increasingly tense territorial disputes in the South China Sea and accused some of China's neighbors of "playing with fire."
Cui Tiankai, vice minister of foreign affairs, blamed other countries in the region - and later singled out Vietnam - for provocation in recent incidents that have rekindled longstanding acrimony over control of areas in the vast stretch of water between them. And he dismissed calls from Vietnam and the Philippines for the U.S. to play a role in resolving those tensions, admonishing that Washington should "approach such issues in a very prudent way."
"I believe some countries now are playing with fire," Mr. Cui told a small group of reporters. "And I hope the U.S. won't be burned by this fire."
The fresh warning highlights the difficult issues that dog ties between Beijing and Washington despite efforts to smooth relations after serious strains last year. The resurgent tension in the South China Sea is likely to feature in Mr. Cui's talks Saturday in Hawaii with U.S. Assistant Secretary of State Kurt Campbell, who oversees Asia-Pacific affairs, intended to be the first in a regular series of bilateral consultations on Asia-Pacific issues.