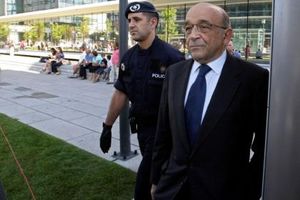 Seven people were convicted of child sex abuse in Portugal on Friday in a major trial that lasted nearly six years and shocked the country.
The six men and one woman were found guilty of crimes including
sexually abusing minors and adolescents, raping children and running a pedophile ring at a state-run children's home in Lisbon during the 1990s
.
The six men were handed jail sentences of between six and 18 years for sexual abuse. The woman, whose house was used by the ring, was not given a custodial sentence because of a 2007 change in the law, the judge said in the televised ruling without elaborating.
The longest sentence was given to a 53-year-old former driver at the home, Carlos Silvino, who confessed to more than 600 crimes and gave evidence against the other defendants.
Others sent to prison were
Carlos Cruz, a popular television presenter with a three-decade career in show business
, who will serve seven years; and
Jorge Ritto, a decorated career diplomat and former UNESCO ambassador
, who was given six years, eight months in jail.
Their lawyers said they would consider an appeal.
Chief prosecutor Miguel Matias said the victims were pleased with the outcome.