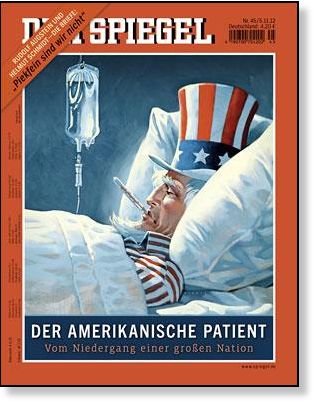 When Martin Sorrell speaks about America's brand, important people listen. Sorrell is CEO of the monster advertising and marketing company, WPP, a brand unremarkable to the average worker around the world. Sorrell took recognized advertising brands like J. Walter Thompson, Ogilvy & Mather, Young & Rubicam, and Grey, bundled them with mega public relations firms like Hill & Knowlton and Burson-Marsteller to sit atop the image makers of the new world order.
WPP - the parent brand - stands for Wire and Plastics Products Plc, a name which likely 9 out of 10 people around the world could not identify. But don't question the brand masters of the universe.
Earlier this month, Sorrell was quoted in the U.K.'s
Telegraph
newspaper on the potential for a shutdown of the U.S. government. Sorrell said, "If you were running a company like this, and stopped paying your workers, you'd get fired." Sorrell said shutdown "is almost like going into Chapter 11 or bankruptcy. The Americans I talk to are frustrated and embarrassed," adding that the "impact on Brand America is not good at all."
Read the rest of this article
here