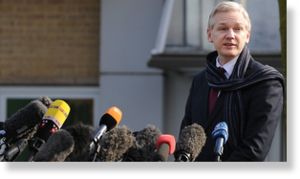 Julian Assange is bringing in the UK's most high-profile lawyers as he tries to avoid extradition to Sweden.
The move comes ahead of an important July 12 appeals hearing in the UK High Court, which will rule on whether Assange - who heads Wikileaks - should be handed over to Swedish authorities for questioning.
The website chief has denied wrongdoing and has not been formally charged. The allegations arose as WikiLeaks was in the midst of a controversial release of a bevy of US State Department cables.
Attorneys Gareth Peirce and Ben Emmerson will represent Assange at the upcoming hearing, their offices confirmed separately. His long-time lawyer, Mark Stephens, declined to say whether he was still representing Assange.
"I'm not prepared to go into that," Stephens said by phone. Asked if he had parted ways with Assange, Stephens said: "That's not entirely accurate."