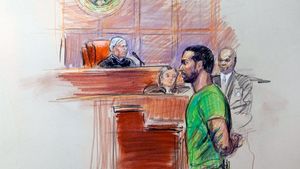 On Friday Amine El Khalifi was arrested on charges of attempting to carry out a suicide bombing on Capitol Hill in Washington, DC. The circumstances of his arrest immediately raise suspicions that he was the target of entrapment by US intelligence and law enforcement agencies.
El Khalifi was arrested in a parking lot near Capitol Hill with what he believed were an explosive vest and a submachine gun. Both items, which were actually inoperable dummies, had just been given to him by undercover government agents who had driven him to the scene and given him instructions. El Khalifi apparently believed he was part of an Al Qaeda terrorist cell, but the individuals he thought were his Al Qaeda companions were in fact working for the US government.
Because the explosive vest was a fake, El Khalifi "posed no threat to the public," Justice Department spokesman Dean Boyd said Friday. Nevertheless, the Obama administration went out of its way to characterize the arrest as a "foiled terror plot" and a national victory in the "war on terror."