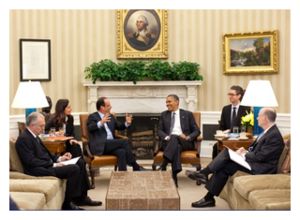 Yes We Scan. Yes We Drone. And Yes We Bomb. The White House's propaganda blitzkrieg to sell the Tomahawking of Syria to the US Congress is already reaching pre-bombing maximum spin - gleefully reproduced by US corporate media.
And yes, all parallels to Iraq 2.0 duly came to fruition when US Secretary of State John Kerry pontificated that Bashar al-Assad "now joins the list of Adolf Hitler and Saddam Hussein" as an evil monster. Why is Cambodia's Pol Pot never mentioned? Oh yes, because the US supported him.
Every single tumbleweed in the Nevada desert knows who's itching for war on Syria; vast sectors of the industrial-military complex; Israel; the House of Saud; the "socialist" Francois Hollande in France, who has wet dreams with Sykes-Picot. Virtually nobody is lobbying Congress NOT to go to war.
And all the frantic war lobbying may even be superfluous; Nobel Peace Prize winner and prospective bomber Barack Obama has already implied - via hardcore hedging of the "I have decided that the United States should take military action" kind - that he's bent on attacking Syria no matter what Congress says.
Obama's self-inflicted "red line" is a mutant virus; from "a shot across the bow" it morphed into a "slap on the wrist" and now seems to be "I'm the Bomb Decider". Speculation about his real motives is idle. His Hail Mary pass of resorting to an extremely unpopular Congress packed with certified morons may be a cry for help (save me from my stupid "red line"); or - considering the humanitarian imperialists of the Susan Rice kind who surround him - he's hell bent on entering another war for the American Israel Public Affairs Committee (AIPAC) and the House of Saud lobby under the cover of "moral high ground". Part of the spin is that "Israel must be protected". But the fact is Israel is already over-protected by an AIPAC remote-controlled United States Congress. [1]