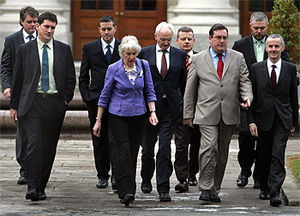 An early general election is on the cards after the Green Party dramatically pulled out of government yesterday.
In the Fianna Fail leadership race , three out of five TDs had yet to publicly declare who they were backing, although Micheal Martin remained the clear front-runner.
Cross-party talks involving Fianna Fail, Fine Gael, the Labour Party, Sinn Fein and the Greens will begin today to find a way to get the law needed to implement the Budget passed quickly.
The opposition is offering to facilitate the debate, but is not promising to vote for it.
But if Finance Minister Brian Lenihan cannot guarantee the Finance Bill will be passed by the end of this week, Fine Gael and Labour are threatening to push motions of no confidence, which Brian Cowen's minority Government cannot win.
Mr Cowen and Mr Lenihan both claimed last night that the legislation could not be passed in just one week, as it was too complex.