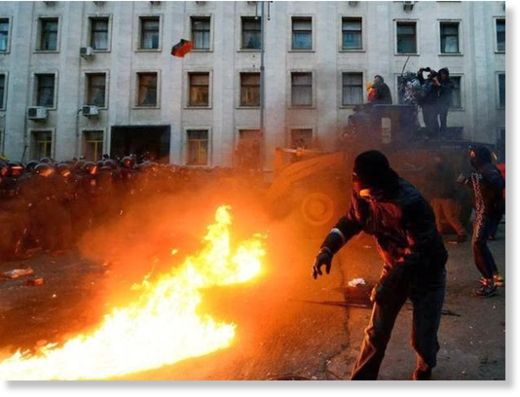 There is an ongoing and deliberate attempt by foreign powers to spearhead the destabilization of Ukraine including its state structure.
There is a long history of colored revolutions in Ukraine going back to the 1990s.
The protest movement in Kiev bears a marked resemblance to the "Orange Revolution" of 2004 which was supported covertly by Washington. The 2004 "Orange Revolution" led to the ousting of the pro-Russian Prime Minister Viktor Yanukovich, spearheading into power the Western proxy government of President Viktor Yushchenko and Prime Minister Julia Tymoshenko.
Once more Viktor Yanukovitch is the target of a carefully staged "pro-EU protest movement". The latter was launched following president Yanukovitch's decision to cancel the "association agreement" with the EU.
The mechanisms of interference are in some regards different to those of 2004. The protests are supported directly by Brussels and Berlin (with EU officials actively involved) rather than by Washington:
"The right-wing parties leading the protests in coordination with EU officials and politicians had called for a "million man march." Ultimately, some 250,000 to 300,000 people gathered on Maïdan (Independence) Square. It was the largest protest in Kiev since the 2004 "color revolution" organized by US and European imperialism - the so-called Orange Revolution that ousted the pro-Russian Yanukovich and brought the pro-Western tandem of President Viktor Yushchenko and Prime Minister Julia Tymoshenko to power.

Evgenia Tymoshenko, the daughter of former prime minister and billionaire natural gas magnate Julia Tymoshenko, whom Yanukovich has jailed, read a message from her mother calling for Yanukovich's "immediate" ouster. (See Alex Lantier, December 8, 2013)
The following article first published in November 2004, focuses on the October-November 2004 "Orange Revolution" directed against then prime minister Viktor Yanukovich, while also providing details on the insidious role of the IMF and the World Bank in imposing the neoliberal economic policy agenda on behalf of the "Washington Consensus".
Michel Chossudovsky, December 2013