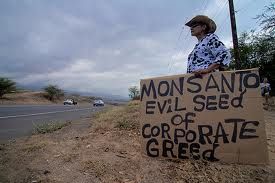 In what has been called the single largest wave of recorded suicides in human history, Indian farmers are now killing themselves in record numbers. It has been extensively reported, even in mainstream news, but nothing has been done about the issue. The cause? Monsanto's cost-inflated and ineffective seeds have been driving farmers to suicide, and is considered to be one of the largest - if not the largest - cause of the
quarter of a million farmer suicides
over the past 16 years.
According to the most
recent figures
(provided by the New York University School of Law), 17,638 Indian farmers committed suicide in 2009 - about
one death every 30 minutes
. In 2008, the
Daily Mail labeled
the continual and disturbing suicide spree as 'The GM (genetically modified) Genocide'. Due to failing harvests and inflated prices that bankrupt the poor farmers, struggling Indian farmers began to kill themselves. Oftentimes, they would commit the act by drinking the very same insecticide that Monsanto supplied them with - a gruesome testament to the extent in which Monsanto has wrecked the lives of independent and traditional farmers.