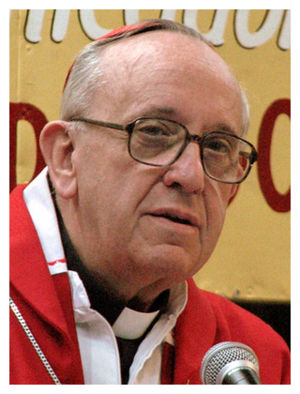 Buenos Aires - Allegations that Jorge Bergoglio, now Pope Francis I, collaborated with Argentina's brutal military dictatorship have been circulating for decades. The Pope, and the Vatican he now heads, have vehemently denied these allegations. The Vatican has
dismissed
the allegations against the new Pope as a "left-wing anti-clerical attack on the church." Vatican spokesman Father Federico Lombardi insisted there has never been a "concrete or credible accusation" against Bergoglio.
On Sunday, an Argentinian newspaper
published
a government memo that seems to definitively prove that Bergoglio did indeed provide information to the murderous dictatorship, informing authorities about allegations against two Jesuit priests who were kidnapped, tortured and imprisoned for five months for allegedly contacting anti-regime leftist guerrillas. Furthermore, Gregoglio is alleged to have sold the priests out even while he personally promised them his protection.
On March 13, Digital Journal
published
a lengthy article detailing Jorge Bergoglio's-- and the Argentine Catholic church's-- alleged role in collaborating with that country's brutal, US-backed
military dictatorship
, a regime characterized by kidnapping, torture, murder and disappearance.
As many as
30,000 people
, from students, trade unionists, journalists and leftists and their sympathizers to children and even pregnant women (whose babies were
stolen
), were killed or disappeared during the 1976-1983 'Dirty War,' which was fully supported by the Carter and Reagan administrations. Many of the most brutal regime figures, including the dictator
Gen. Leopoldo Galtieri
, were trained by the US military in kidnapping, torture, assassination and democracy suppression.