Don't Panic! Lighten Up!
PRIME Minister Gordon Brown has dismissed the latest London bomb scare as "feeble" and "unlikely to frighten the public".


---
---
AP
Sat, 30 Jun 2007 04:39 UTC
LITTLE CHUTE, Wis. - A cheese carver has accomplished a task that's a real "Muenster" - or make that a "monster" - in size. Troy Landwehr used his carving tools to turn a 700-pound block of Land O' Lakes cheddar into a replica of Mount Rushmore.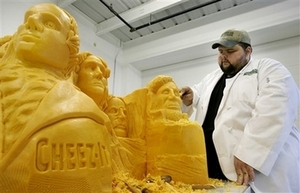 ©A/P
Completing a commission from Cheez-It brand crakers, Troy Landwehr puts the finishing touches on a sculpture of the Mount Rushmore National Memorial, carved from a block of cheddar cheese weighing 700 pounds.
---
An unidentified woman was driving recently on Illinois Route 36 in the vicinity of Larry Schlabach's rural Arthur residence when she saw a giant chimney of flames pierce the horizon.

She promptly turned her car in the opposite direction and stepped on the gas. By the time she reached the town of Atwood, she was doing 85 mph.
---
A nature lover north of Sydney has saved a catfish stuck at the surface of a lake after swallowing a basketball.
The man saw a basketball bobbing on the surface of Lake Macquarie and went to investigate.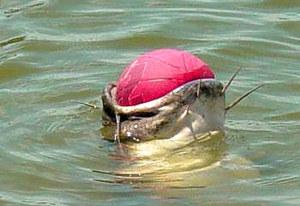 ©The Daily Telegraph
More than he could chew ... a catfish flathead in Lake Macquarie near Newcastle was stuck to the surface after swallowing a basketball.
---
AP
Thu, 28 Jun 2007 06:01 UTC
MANISTIQUE - Researchers will visit Michigan's Upper Peninsula next month to search for evidence of the legendary creature known as "Bigfoot" or "Sasquatch."
---
Prince Charles, self-appointed champion of organic farming, has had his carrots rejected by Sainsbury's because they were found to be rotten.

The decision to turn down the vegetables, which Prince Charles sells under his Duchy Originals brand, emerged on the same day that figures revealed the Prince of Wales is investing more than ever in his organic farming and gardening enterprises.

Annual accounts published by Clarence House show the Prince received a record income of more than £14m in 2005-06 and that he spent 37 per cent more on his organic gardens - £41,000 in total.

But the business disagreement with Sainsbury's highlights a growing tension between organic farmers and supermarkets, which Prince Charles once accused of discriminating against "wibbly-wobbly" vegetables. Sainsbury's also rejected carrots supplied by the head of the Soil Association, Patrick Holden.
---
Rebekah Wade
The Sun
Wed, 27 Jun 2007 08:26 UTC
President George Bush urged Tony Blair to STAY in power until he quit the White House.

The US leader tried to persuade the PM to complete a full term in office so they could leave power together.

President Bush told The Sun in a world exclusive interview: "Tony's had a great run and history will judge him kindly. He's a very talented man, for whom I've got a great deal of respect.

"I selfishly said to him, 'I hope you can stay out my term!'

"But Tony has been very gracious about Gordon Brown to me."

Mr Bush joked of the new Premier: "Gordon came here and he wasn't the image of the dour Scotsman at all! He was relaxed. It was a good meeting."
---
For pub-goers who enjoy a cigarette with their drink, next week's ban will make England a very different place.
So one landlord has claims to have found a loophole to fight the new law - by declaring his pub to be part of a different country.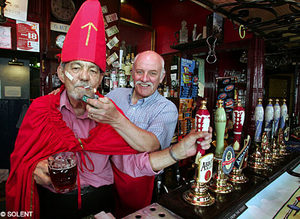 ©Solent
Landlord Bob Beech, right, at The Wellington Arms in Southampton with regular Edward Elder, an old sailing pal of the Island's king and a regular at the pub who knighted Sir Bob in a ceremony this month.
The Wellington Arms in Southampton is set to transform itself from a public house into the official embassy for a tiny Caribbean island.

Comment: Fight imbecility and absurdity with creativity!


---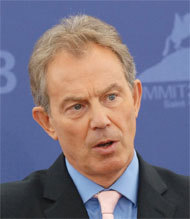 Mossad insists Blair serves out his remaining contract or will dock his pension
Israeli sources have repudiated reports that the Bush Administration will employ UK Prime Monster as some sort of Middle East Mr Fix-it and insisted that when he steps down from his job as UK Prime Monster of June 27 he will return to Tel Aviv and his former Mossad desk job.
"Under the terms of his job contract Blair has to serve out the remaining five years left in Tel Aviv," a senior Israeli defense ministry source said today.
"Naturally we're disappointed that he didn't find the WMDs we planted for him around Iraq and his final pension will reflect this by way of bonus cuts.

Comment: It's funny that in a world gone mad, what is apparently a spoof is actually much closer to the truth than what passes for objective news reporting.


---