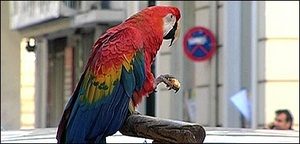 ©Unknown
A big row has squawked into life in Greece, after a parrot called Coco was handed a £320 parking fine.
Coco's owner runs a pet shop in the city of Patras, and every day he puts Coco's perch put into the street.
Coco loves to talk to people passing by, but his perch sits in the street in a parking spot, so under the rules of the city, the police have fined him.