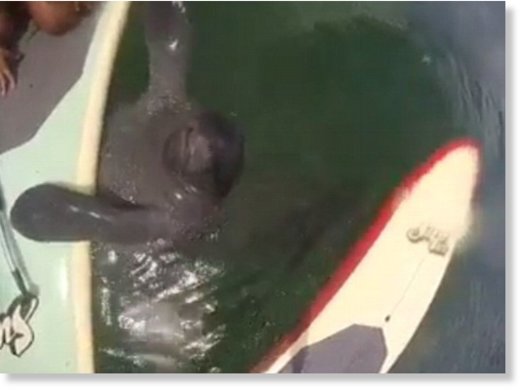 Two Florida girls got a sweet summer surprise when they went out paddleboarding - and made a new friend.
Celine Chasteen couldn't believe it when a manatee swam right up to her and put his flippers on her board.
At first Celine had thought the manatee was a rock in the distance as she paddled through the waters of Jupiter.
'But then they started moving,' she told
The Dodo.
'The next thing I know, there's a manatee putting his flippers on my board.'
The manatee was happy to chill out with Celine and her friend, floating with the pair for a moment before he swam away.
'It was so cool,' Celine said. 'I've never experienced anything like that before.'
'I thought he was really cute. He was really nice. I hope he drops by again.'