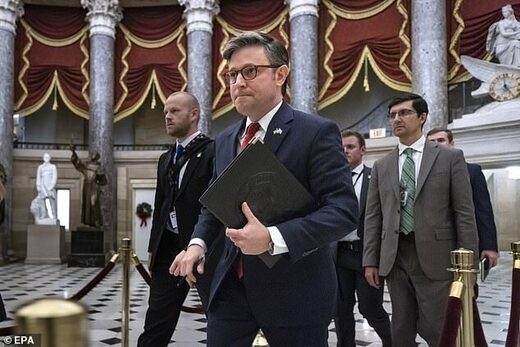 Will blur out the faces of some of rioters
Speaker Mike Johnson announced Friday he would begin making all of the January 6th footage available to the public immediately, following through on a promise to right-wing
conservatives
that started under former Speaker
Kevin McCarthy
.
The clips will be posted on the Committee on House Administration's
website
and much of the more than 44,000 hours of security footage from Jan. 6 has already gone up. Around 90 hours of footage is expected Friday and the rest over the coming months.
The clips will blur the faces of private citizens to ensure no one is 'targeted for retaliation of any kind.' The speaker said roughly five percent of the footage would not be posted so as not to release sensitive security information 'related to the building architecture.'
Rep.
Matt Gaetz
, R-Fla., had first demanded McCarthy make the footage public in negotiations to get him the speaker's gavel.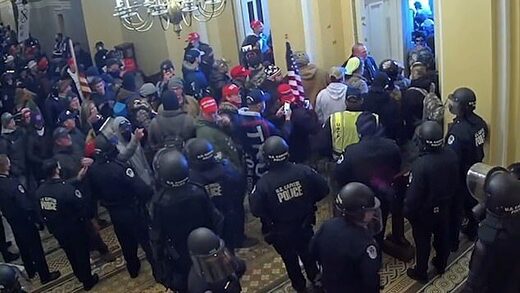 Johnson had pledged to release all of the footage during his campaign for the gavel last month.
The speaker said the decision will 'provide millions of Americans, criminal defendants, public interest organizations, and the media an ability to see for themselves what happened that day, rather than having to rely upon the interpretation of a small group of government officials.'
January 6th defendants and victims can request access to the footage that is withheld if it relates to a legal case.
For the past few months the House Administration Committee has only made footage available to members of the media, criminal defendants and a few others.
In February McCarthy had given the footage exclusively to Fox News Host Tucker Carlson in a move decried by Democrats. Carlson played select clips of it on his former primetime show.
GOP hardliners were pleased with Johnson's announcement.
Former President Trump praised Johnson on Truth Social: 'Congratulations to Speaker of the House, Mike Johnson for having the Courage and Fortitude to release all the J6 Tapes, which will explicitly reveal what really happened on January 6th!'
'Doing what he said he would do. Good,' Rep. Chip Roy, R-Texas, wrote on X.
'Thank you @SpeakerJohnson!' said Gaetz on X.