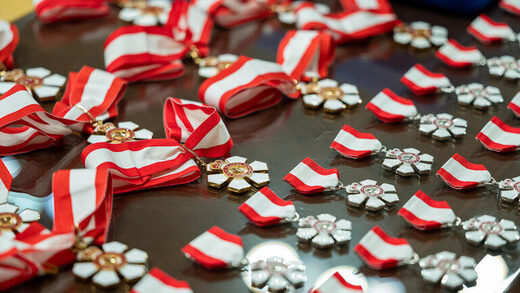 Canadian Governor General Mary Simon has reportedly apologized and expressed "regret" that her office awarded the second-highest merit in the country in 1987 to a Ukrainian-Canadian who formerly served in a Nazi unit.
The statement was reported on Tuesday by
Forward
, a Jewish news outlet that previously helped expose the dark past of Yaroslav Hunka.
The Ukrainian-Canadian Waffen-SS veteran received a standing ovation at the Canadian parliament last month, sparking international outrage.
Peter Savaryn, whose decoration more than three decades ago has now been deemed inappropriate, served in the same 14th Waffen Grenadier Division of the SS as Hunka.
Savaryn was already mentioned in connection in the Hunka scandal due to his tenure as the 12th chancellor of the University of Alberta from 1982 to 1986. Last month, the university announced it was shutting down an endowment named after Hunka. The Friends of Simon Wiesenthal Center (FSWC), a Jewish advocacy group, urged the university to acknowledge Savaryn's past as well.
The unit in which the two Ukrainian-Canadians served, which was also known as the Galicia Division, was formed from volunteers in 1943 to assist Nazi Germany's campaign on the eastern front. It stands accused of committing war crimes against Polish civilians.
Only living individuals can be members of the Order of Canada. Savaryn, who passed away in 2017, no longer has the honor, and it cannot be revoked retroactively under the order's constitution, the statement quoted by Forward said.
"The Chancellery is committed to working with Canadians to ensure our honors system is reflective of Canadian values," it added.
The Canadian governor general is the British monarch's personal representative in the country, although the Canadian prime minister provides advice on who should serve in the largely ceremonial role. Simon was given the job in 2021, becoming the first Canadian indigenous person to hold the position.
The Hunka scandal prompted Canadian parliament speaker Anthony Rota to resign, after he took full responsibility for inviting the 98-year-old to the chamber.
Amid the international outcry Prime Minister Justin Trudeau claimed that Russia was "politicizing" the controversy to undermine Ukraine's reputation.
Ukrainian President Vladimir Zelensky, who joined Canadian officials in applauding Hunka, has not publicly commented on the situation. Ukrainian Nazi collaborators are often treated as national heroes in modern Ukraine on the grounds that they fought against the Soviet Union for an independent Ukrainian state.