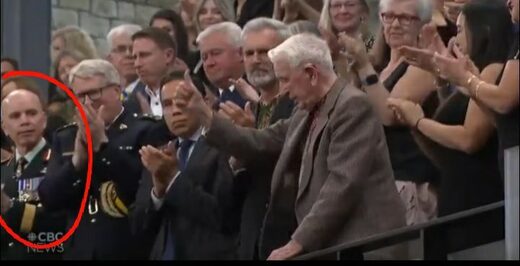 As Canada's top officials express embarrassment for honoring a WWII Nazi collaborator in parliament, the leader of the country's military, Gen. Wayne Eyre, refuses to apologize for his standing ovation. The Canadian military has trained Ukraine's notorious neo-Nazi Azov Battalion for years.
Canadian politicians have been in frantic damage control mode since
feting a former member of the Waffen-SS
during a parliamentary reception for Ukrainian President Volodymyr Zelensky on September 22. The Speaker of Canada's House of Commons, Anthony Rota, resigned following the incident, while Prime Minister Justin Trudeau lamented it as "extremely upsetting," and opposition leader Pierre Poilievre branded the affair the "biggest single diplomatic embarrassment" in Canada's history.
But amid the gratuitous public rites of contrition, one influential official has been conspicuously absent: Canada's highest-ranking general. According to the
Ottawa Citizen
, Chief of the Defence Staff Gen. Wayne Eyre has "declined to apologize for his standing ovation" for Yaroslav Hunka, the now-notorious 98-year-old former member of the 14th Waffen Grenadier Division of the SS, whose members gained international infamy for hunting down anti-Nazi partisans, massacring thousands of civilians, and burning hundreds of Polish villagers alive.
The notion that the Nazi proclivities of figures like Hunka could have escaped Eyre's notice now appears increasingly remote. In 2017, Ukraine's Azov Battalion published photos on their website publicizing their meeting with high-level Canadian military officials, who had arrived in Ukraine to help train the notoriously neo-Nazi infested unit, which was officially incorporated into the Ukrainian National Guard.
A year later, Azov posted photos on its official social media channels showing
Canadian military attaché
Col. Brian Irwin meeting with its personnel. Responding to a query from journalist Asa Winstanley,
a Canadian military spokesman
justified
training the fascist military on the grounds that the session "includes ongoing dialogue on the development of a diverse, and inclusive Ukraine
."
Just four months before Russia's invasion of Ukraine, The Friends of Simon Wiesenthal Center for Holocaust Studies
sent a letter
to then-Acting Chief of the Defense Staff Gen. Wayne Eyre and Defense Minister Harjit Sajjan demanding an investigation into the decision to train Ukrainian neo-Nazis. The Jewish group urged them to ensure that such instruction did not continue.
"If Canada is going to be providing military training to foreign forces, then it is our responsibility to know we are not training neo-Nazis," said Jaime Kirzner-Roberts, policy director of the Friends of Simon Wiesenthal Center. "It is our obligation to our Canadian veterans who sacrificed so much defeating fascism in Europe."
But such warnings apparently went unheeded.
The Canadian military not only declined to discontinue its Nazi-training policies, it escalated its program of coaching avowed fascists
. Since Russian military operations in Ukraine kicked off in Feb. 2022, Canada has invested a further
$1.6 billion USD
in the arming and instructing of Kiev's military.
On the sidelines of Zelensky's now-infamous address to the Canadian Parliament, Ottawa
authorized
the further disbursement of another $483 million USD in aid and training on F-16 fighter jets.
Canada's scheme of funneling weapons to Kiev and coaching Ukrainian forces officially began in 2014, just months after anti-Russian forces toppled the democratically-elected government of Viktor Yanukovych in a brutal US government-backed coup d'etat.
Under the auspices of "Operation UNIFIER," more than 33,000 Ukrainian troops received "advanced combat instruction by Canadian soldiers
," Canada's state-affiliated CBC
reported
in 2022.
Ukraine's ambassador in Ottawa, Yulia Kovaliv, heralded the training initiative as a "very important initiative."
"It is also important to further provide Ukraine with heavy weapons," she added.
In the UK, where Canadian forces frequently travel in order to school Zelensky's army in the art of killing Russians, the program received a similarly warm welcome. An ebullient British Defense Secretary Ben Wallace said in a statement at the time that he was "delighted" that "the Canadian Armed Forces will be joining the growing international effort to support the training of Ukrainian soldiers in the UK."
"Canada's expertise will provide a further boost to the programme and ensure that the Ukrainian men and women, coming to the UK to train to defend their country, will get a wide pool of experience and skills from both UK forces and our international partners," Wallace crowed.
Just what exactly the nationalist-leaning members of Ukrainian armed forces did with the training and tacit blessing of Canada has yet to be ascertained. But Azov members have been implicated in a number of war crimes. Despite the unit's recent push to whitewash its Nazi tendencies, Azov — which has since expanded to a full-fledged brigade under Kiev's official command — retains as its leader
Andrey Biletsky
, who once described Ukraine's role on the global stage as helping to "lead the white races of the world in a final crusade ... against Semite-led Untermenschen."
Biletsky has taken pains to distance himself from the comment, but the unit has not undertaken similar efforts to distance itself from Biletsky. In September 2023, Biletsky was photographed proudly
shaking hands
with Zelensky during an intimate meeting with the Ukrainian President on the outskirts of Bakhmut. And Zelensky himself appears to have few problems with publicly associating with the group.
In a post commemorating the encounter with Ukraine's most celebrated Nazi formation, Zelensky declared: "I am grateful to everyone who defends our country and people, who brings our victory closer."