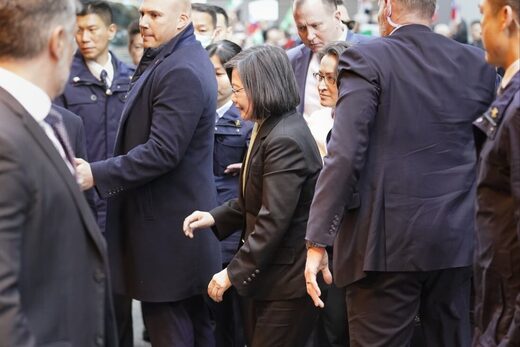 Past transits by Taiwanese leader
Tsai Ing-wen
through the US were "mistakes" and the precedent will not restrain Beijing's response to her current visit, China's senior envoy to Washington warned as Tsai arrived in New York on Wednesday.
Xu Xueyuan, chargé d'affaires at Beijing's embassy in the US,
also sounded an alarm about another "serious confrontation" in the rival powers' relations if a planned meeting between Tsai and US House Speaker Kevin McCarthy were to take place
.
Xu conveyed those messages at a press conference on Wednesday a few minutes after Tsai landed in New York
as a stopover en route for her 10-day trip to Central America. Tsai is also expected to visit Los Angeles
during her return trip next week where she is expected to meet McCarthy, a California Republican.
Beijing has long stressed that the
Taiwan
question was "the most sensitive issue" in its relations with Washington and opposes other nations' contacts with Taiwanese government officials.
But that has not deterred the Biden administration from repeating recently that transits through the US by a Taiwanese president were "nothing new" and urged Beijing to refrain from reacting aggressively.
Xu rejected that position, saying in her briefing that the US "should not use past mistakes as excuses for repeating them today".
"[Whether] it is Taiwan leaders coming to the United States or the US leaders visiting Taiwan,

it could lead to another serious, serious, serious, I repeat, confrontation in the China-US relationship,"
she added.
Tsai's stopover was expected to complicate fraught cross-strait ties and already fragile
Sino-US relations
.
Tensions between the two powers have steadily intensified on a wide range of issues including the
Chinese balloon incident
in February, their divergent positions on the
war
in
Ukraine
, and a stronger showing of the
partnership between Beijing and Moscow
.

Comment: The balloon 'incident' was a nothing burger; the conflict in Ukraine is a US instigated proxy war against Russia; and the US only has itself to blame for the incredible relationship between China and Russia.


"The Taiwan question is at the very core of China's core interests and the first red line that must not be crossed"
in the bilateral relationship, Xu said on Wednesday.
She urged Washington not to "play with fire" over Taiwan and said those who do so "will perish".
"This is not a threat ... the Chinese government must react [to a] violation of the one-China principle," she added.
Xu likened the Taiwan question to a "grey rhino", using a metaphor describing highly probable but neglected threats yielding an enormous impact.
The envoy
criticised the US for making the issue "increasingly prominent" by upgrading levels of official exchanges and selling more arms to the island
.
McCarthy's predecessor as House speaker, Nancy
Pelosi,
visited Taipei
last August. In response, Beijing
ran live-fire military drills
circling the island and suspended eight dialogue and cooperation mechanisms with the US on areas including the military, illegal immigration, illicit drug prevention, transnational crimes and
climate change
.
Tsai has made stopovers in the US six times since becoming the Taiwanese leader in 2016. She has also met with members of the US Congress
as well as state and local officials and made public appearances.
Her last US visit came in 2019. At that time,
China's military
carried out exercises off Taiwan's southeast coast in what was widely regarded as a warning
message to Taipei and Washington.
"Every Taiwan president has transited the United States," National Security Council spokesman John Kirby said on Wednesday during a White House press conference just before Xu's briefing.
"She [Tsai] has also transited through both New York and Los Angeles before," he added. "The People's Republic of China should not use this transit as a pretext to step up any aggressive activity around the Taiwan Strait."
Beijing claims Taiwan as part of its territory and has said it will eventually unite the island with the mainland, by force if necessary.
Few countries, including the US, recognise the island as an independent state.
Under
official US policy
, Washington does not recognise Beijing's claim of sovereignty over Taiwan but "acknowledges" that the claim exists.
Just a few days before Tsai departed for her 10-day trip to Central America,
Honduras officially cut its decades-long relations with Taipei and
set up formal ties with Beijing
.
However, officials from countries that have diplomatic relations with Beijing are ratcheting up their interactions with Taipei. Recent examples include
visits to the island by the Czech parliament speaker and German education minister.
Tsai's US stopovers coincide with former Taiwanese president Ma Ying-jeou's
historic 12-day visit
to mainland China.
Ma, who twice served as chairman of the Kuomintang - the island's Beijing-friendly opposition party - said people on both sides of the Taiwan Strait are ethnically Chinese and that it is an "inescapable responsibility" for them to avoid war with each other.
Beijing has claimed it sees no links between Ma's and Tsai's travels, despite some observers saying the mainland authorities were seeking to offset her US visit by welcoming his.
Meanwhile, mainland officials said they had repeatedly raised objections over Tsai's stopover with the US side.
"The trip is not so much a 'transit', but an attempt to seek breakthroughs and propagate 'Taiwan independence'. The issue is not about China overreacting, but the US egregiously conniving at and supporting 'Taiwan independence' separatists," Chinese foreign ministry spokeswoman Mao Ning said at a press conference on Wednesday.
Tsai's arrival in New York coincides with the US-organised
Summit for Democracy
in Washington, which some 120 global leaders are attending in person or virtually.
Taiwan is taking part in the conference for the second consecutive time, with its digital minister, Audrey Tang, expected to deliver a pre-taped speech at an event on Thursday featuring opening and closing remarks by US State Secretary Antony Blinken.
As with the inaugural edition of the summit in 2021,
Beijing did not receive an invitation
to attend.