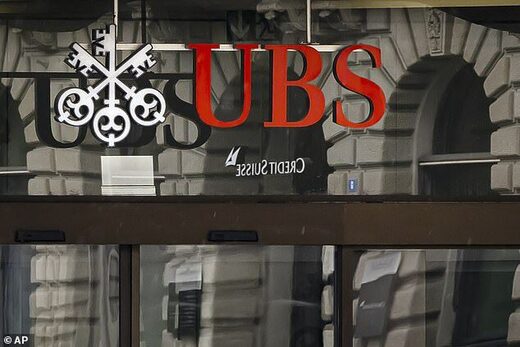 Swiss bank UBS is prepared to take over its troubled rival Credit Suisse but only for a knockdown price, reports said today.
It comes amid urgent talks aimed at
saving
the embattled bank from a bloodbath when the markets reopen.
The two largest banks in the wealthy Alpine nation famed for its banking prominence have been in negotiations with the government throughout the weekend, with the central bank and financial regulators all involved.
The
Financial Times
, which was the first on Friday to report the prospect of Switzerland's biggest bank swallowing up Credit Suisse, said UBS had offered to buy it for up to $1billion.
The transaction would be worth 25 cents (0.23 Swiss francs) per Credit Suisse share, the
FT
said.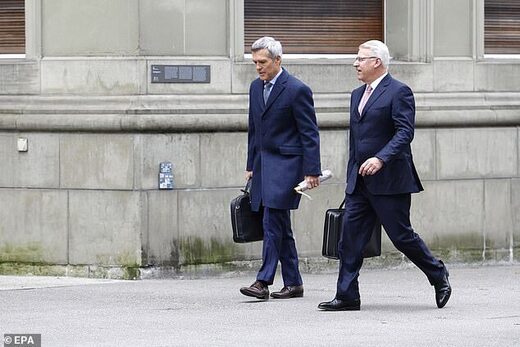 After suffering heavy falls on the stock market last week, Credit Suisse's share price closed on Friday at 1.86 Swiss francs, with the bank worth just over $8.7billion. Credit Suisse's share price has dropped from 12.78 Swiss francs in February 2021 following a string of scandals.
Comment:
A 'string of scandals' is kind. Credit Suisse has a lengthy rap sheet. It's no wonder USB is wary of getting involved with them:
Bloomberg reported that Credit Suisse was pushing back on the UBS offer, with the support of its largest shareholder, believing that it is too low. But the clock is ticking until the Swiss stock exchange reopens at 0800 GMT on Monday.
UBS is being urged by the authorities to get a deal over the line in time, in a bid to reassure investors and avoid a wave of contagious panic on the markets.
A merger of this scale - involving swallowing up all or part of a bank arousing growing investor unease - would normally take months. UBS will have had a few days.
The Swiss authorities felt they had no choice but to push UBS into overcoming its reluctance after the huge pressure exerted by Switzerland's major economic and financial partners, fearing for their own financial centres,
Blick
newspaper reported.
While under Swiss rules, UBS would typically have to consult shareholders over six weeks, but could use emergency measures to skip the consultation period and a shareholder vote, the
FT
said, citing unnamed sources.
Members of the Swiss government, including President Alain Berset, were reportedly filmed heading into the finance ministry in Bern early on Sunday.
The government did not respond when contacted on Sunday.
'The unthinkable becomes true: Credit Suisse is about to be taken over by UBS,' the
SonntagsZeitung
newspaper said.
The government, FINMA and the SNB 'see no other option', it claimed.
'The pressure from abroad had become too great - and the fear that the reeling Credit Suisse could trigger a global financial crisis,' it said.
David Benamou, chief investment officer of Paris-based Axiom Alternative Investments, said: 'The Credit Suisse management, even if forced to do so by the authorities, would only choose (a UBS takeover) if they have no other solution.'
The Swiss Bank Employees Association said there was 'a great deal at stake' for the 17,000 Credit Suisse staff, 'and therefore also for our economy'.
'In addition, tens of thousands of jobs outside of the banking industry would potentially be at risk,' it added, calling for a task force to be established to manage the situation.
Like UBS, Credit Suisse is one of 30 banks around the world deemed to be Global Systemically Important Banks - of such importance to the international banking system that they are considered too big to fail. But the market movement seemed to suggest the bank was being perceived as a weak link in the chain.
'We are now awaiting a definitive and structural solution to the problems of this bank,' French Finance Minister Bruno Le Maire told
Le Parisien
newspaper.
Amid fears of contagion after the collapse of two US banks, Credit Suisse's share price plunged by more than 30 percent on Wednesday to a new record low of 1.55 Swiss francs. That saw the SNB step in overnight with a $54-billion lifeline.
After recovering some ground Thursday, its shares closed down eight percent on Friday at 1.86 Swiss francs as the Zurich-based lender struggled to retain investor confidence.
In 2022, the bank suffered a net loss of $7.9 billion and expects a 'substantial' pre-tax loss this year.