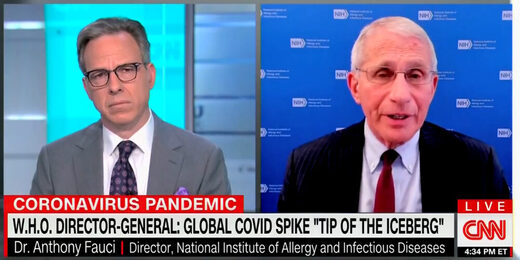 Dr. Anthony Fauci recently told CNN viewers to be prepared for anything in terms of pandemic response measures for the current BA.2 COVID variant.
In an appearance on Jake Tapper's
program
, Fauci said that the United States follows the trends of the United Kingdom by two to three weeks. While noting the lessened severity in the BA.2 COVID variant - it spreads faster.
The main message from health authorities is that COVID is still not over.
Fauci told Tapper:
"We need to be flexible and if in fact we do see a turnaround, and a resurgence, we have to be able to pivot and go back to any degree of mitigation that is commensurate with what the situation is. So we can't just say we're done, now we're going to move on, we've got to be able to be flexible because we're dealing with a dynamic situation. Hopefully, the cases will continue to come down as the weather gets warmer."
He rounds off by saying that "waning immunity" calls for Americans, even if initially vaccinated, to still get COVID

booster shots.

Comment: Of course he did.


As noted by
Bloomberg
, the return of Dr. Anthony Fauci this week comes as the White House is seeking $22.5 billion to continue funding vaccine production and treatment programs.
Elsewhere, he has made sporadic
appearances
on local TV and niche YouTube channels. In these cases he also expressed the potential need to bring back "interventions" if required.
But Sen. Rand Paul of Kentucky knew of the possibility that the head of the National Institute of Allergy and Infectious Diseases might try and come back eventually, so he
proposed
a new bill that'd fire Fauci.
"No one person should have unilateral authority to make decisions for millions of Americans," Sen. Paul said back on Monday.
When it comes to high-profile COVID cases in Washington DC's circles, both former
President Obama
and Second Gentleman
Doug Emhoff
tested positive for the virus this week.